Nowadays, the saying would probably have to be modified. If you own an iPhone, you can split its screen – and that's at least twice as much fun as using just one display. With this feature, you can use two websites or apps at the same time. We'll tell you how to use iPhone split screen and everything you need to know about it.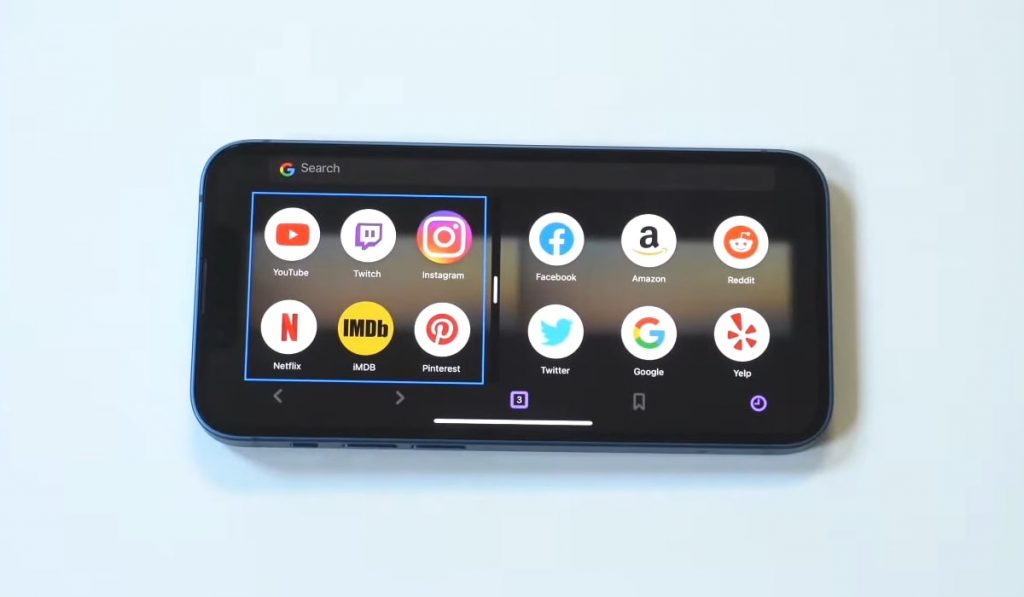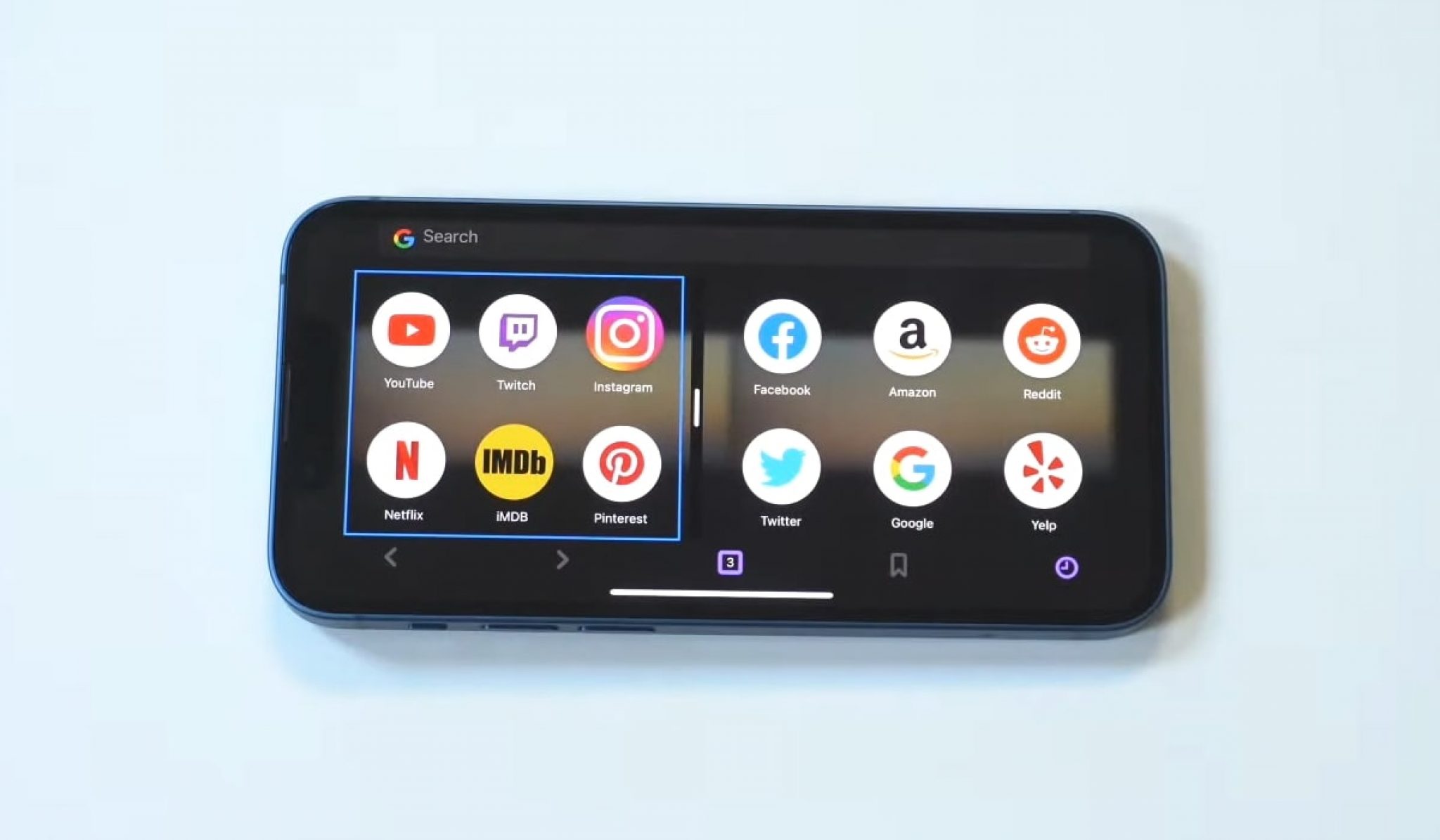 Apple is a bit cagey about the mode (for a good reason), and not everyone is clear about accessing it. We'll show you how to use the feature below. In addition, we explain what limitations are associated with the mode and how you can still enjoy all the benefits of a split screen. You want to use the iPhone split screen mode? Lets find out in the following article.
Split Screen Mode is not available for all model
For iOS users, split screen is not exactly one of the features they use every day. Although iPhone screen splitting is an extremely useful feature, very few Apple users are aware of it. Why is that? Actually, the explanation is relatively simple: because there is no official iPhone split screen mode.
At least not for any of the currently available iPhones. And if there is, then the mode integrated with the iOS menu is not a classic iPhone split screen mode (more about this in the next section).
Whether your device has the corresponding mode depends on the model you are using. Unfortunately, the model is only integrated with the higher iPhone variants. These models include all iPhones from the 6 model onwards that have the suffix Plus, Max or Pro.
That means: If you use an iPhone 6s Plus, you can use the Split Screen mode. An iPhone 11 Pro users can fall back on the mode. Unfortunately, users of the old (classic) models, such as the iPhone 6, 7 or 8, have to do without it.
How to Split screen on iPhone?
If you use one of the higher iPhone models, the iPhone Split Screen Mode can be easily found in your menu and turned on. The feature is hidden deep in the iOS menu, so you can't find it at first glance.
To split screen on iPhone, go to Settings > Display & Brightness > Display > Zoom > Set > Use Zoom. After you have made this setting, your device will be able to switch to Split Screen mode.
If you want to split your screen in the future, all you need to do is hold your device crosswise or horizontally. If you have just opened an app and turn your iPhone to the side, it will automatically switch to iPhone Split Screen mode.
In this mode, you see the open app and additional information such as mail notifications, time, calendar, incoming messages, reminders, contacts, settings and other Apple internal information.
Simply put, this is not a true iPhone Split Screen Mode but a stripped-down variant that shows you additional iOS information. However, it is possible to unlock additional features like an iPhone Split Screen through a so-called jailbreak. However, Apple's process is not authorized and poses numerous security risks.
Options iPhone Split Screen mode
The screen splitting feature provided by Apple is rather modest, as it only comes into question for some devices and is also not a real split screen mode. Is there the possibility of a real iPhone split screen mode, which allows you to display two contents in parallel?
Yes, and this actually makes navigation on your iPhone twice as much fun. The roundabout way is through special apps. In the App Store, you can find many applications that are specially designed to simulate an iPhone split screen mode on your device.
Many of the apps do an extremely good job and can effortlessly display two screen contents side by side or on top of each other. Below we present the four best applications.
Are you enjoying this guide? You might also interested to read in How to transfer data to the New iPhone
WebDuo Pro
One of the current best apps for an iPhone split screen mode is WebDuo Pro. The app is a special web browser that allows you to display two websites in parallel. Unfortunately, the function does not extend to the simultaneous use of other apps.
This means that you can only use an split screen with this application for browsers like Safari or Chrome, but not for apps like WhatsApp or Instagram. WebDuo Pro is not free of charge, it will charge you $1.99.
Split Screen View
The Split Screen View application is also recommended. The app is available in a free and a paid version and allows the simultaneous display of content. This includes websites as well as apps like Instagram and Twitter.
With this app, you have the free choice of which screen contents you want to share. A small drawback: The design of the app looks a bit old-fashioned or unfashionable.
Split Web Browser
Another application that lets you get an iPhone split screen is Split Web Browser. The app is free to download from the App Store and allows you to use two browsers in parallel, similar to the WebDuo Pro application.
Unfortunately, you can't use apps like Twitter, Facebook Messenger or TikTok with it at the same time. The good news is that although the app is free, it comes completely without ads.
Split Screen – Web Browser app
There is also the free application "Split Screen – Web Browser app." Behind the somewhat bulky name is one of the best split screen applications currently on the market. Once you download and open it, you can start using apps – whether browsers or social media apps – at the same time.
The free version has ads, and the paid version does not. Interesting fact: The icons in the app look like those on Android devices.
You can also read these articles: