More and more people are discovering live streaming for themselves. However, they usually don't consider that a good streaming idea also requires the right streaming equipment. In our guide, you will learn what you need to consider when you want to start live streaming. And what equipment you should buy to make a streaming setup.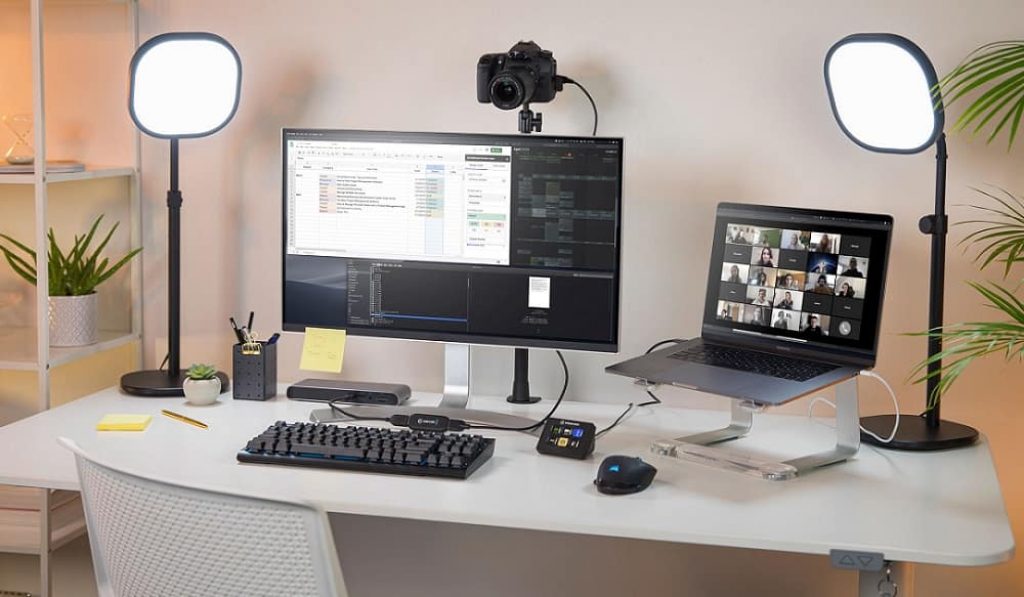 How can you improve your streaming setup quality?
In addition to the tips for beginners, we also have suggestions on how you can sensibly upgrade your streaming setup if you are already an active streamer. We show you which platforms you can stream, which technical requirements your devices have to fulfill and what you might still be missing in your streaming setup.
What live streaming platforms are there?
First of all, it is important to know which platforms you can stream at all. Below we present the five most common live streaming platforms.
Twitch TV
Twitch is currently the largest live streaming platform in the world and the largest community of gamers. You can stream live worldwide and do live chat with viewer interaction. It has its own streaming software Twitch Studio for streaming beginners. But, if you want to live stream other content, it isn't easy to reach interested parties. Full functions are only available to you once you have achieved certain goals.
YouTube live
With YouTube live streaming, you can reach many viewers with your streams. Unless otherwise specified, the video is stored on YouTube. You can stream with the PC or via mobile app, whatever you want. You can schedule live streams to promote them in advance. Live content that should remain accessible beyond the streaming. Also, it will be additional content for your YouTube channel.
Instagram live
The Instagram live streaming is a straightforward start operation. Your followers will receive a notification when you go live, and you can easily invite participants to interviews. You will easily live streams of events that you want to share with your followers. But it is only possible via the app, and the videos will be deleted. And you cannot schedule the video live.
Facebook live
Your subscribers will be notified immediately when you go live with the Facebook live streaming. You can go live using both PC and via mobile app. Also, you can find participants as a custom audience. Easily reach the target group and live chat with viewer interaction. But your subscribers must be active on Facebook for you to be able to reach them. 
Twitter live
Twitter is also one of the biggest social media platforms. But it is not much famous for live streaming. Easy start via the Twitter app lets you live broadcast events with automatic live transmissions.
Which internet connection is for live streaming?
To do a live stream at all, you first need a sufficient Internet connection. This is not insignificant since local areas, in particular, are not yet supplied with high-speed Internet.
Furthermore, you have to keep in mind that upstream is required for live streaming. These values are usually significantly lower than the downstream, which you normally need for downloads or watching videos, for example.
For a better understanding, you can imagine a 16 Mbit/s Internet line as an example, which really has 16 Mbit/s (16,000 KBit/s) in the downstream. However, in the upstream, it is only 2.4 Mbit/s (2,400 Kbit/s), for example.
Twitch recommends 3,500-5,000 Kbit/s for a 720p 60fps livestream and 4,500-6,000 Kbit/s upstream for a 1080p 60fps livestream. These values are similar for all livestreaming platforms.
This means that you will not be able to live stream in either resolution with your exemplary internet line. The maximum resolution you can live stream with an upstream of 2,400 Kbit/s is 720p.
What equipment do you need to streaming setup?
There are different possibilities with which you can live stream. Which equipment you can use depends on your live stream content.
For gaming live streams: If you want to start a live gaming stream, a PC or a console is suitable, depending on what you are playing. On a PC, you can start streaming directly with the help of the appropriate streaming software.
If you want to stream your console gameplay, you have several options. With the Xbox One, you need the free Twitch app, and then you can start with your stream. With Playstation 4, you can stream directly from the console's Share menu.
These two options are particularly suitable if you want to try out streaming. If you want to customize your stream, you need a capture card to connect your console to your streaming PC.
Does my PC need any special requirements for live streaming?
To start streaming live, the PC mainly needs a strong CPU. The graphics card usually does not play a major role in streaming itself. If you bought your PC in the last two to three years, your PC should have enough power for live streaming without any upgrades.
However, if you want to stream video games, you also have to ensure that your PC meets its minimum requirements. Both the streaming and the game stress the CPU. You also have the option to outsource the streaming to a second PC.
Recommended minimum requirements for live streaming on Twitch:
Intel Core i5-4670 or comparable AMD processor.
Eight gigabytes of RAM
At least Windows 7 or comparable macOS
For spontaneous live streams:
For example, if you are on the road and want to live stream spontaneously, you can also stream via smartphone or tablet. To do this, you need the apps available from the respective live streaming platforms, and you're ready to go.
The live stream functions of Facebook, Instagram, or Twitter are particularly suitable here. However, keep in mind that you have to accept a loss of quality and high consumption of mobile data when live streaming with your smartphone. For professional live streaming, you should use a PC or laptop in conjunction with additional streaming equipment.
G-Technology Amorlock NVMe SSD
The G-Technology Amorlock NVMe SSD with Encryption is an SSD that protects your data with professional 256-bit AES XTS hardware encryption and NIST P-256 management with elliptic curve-based keys. What's special about it is that your work speed is not affected.
The heat-dissipating aluminum enclosure guarantees sustained, professional-grade transfer speeds of up to 1,000 MB/s read and write. This means that your data is already ideally protected during transfer. No passwords are required for authentication. The SSD uses the biometric authentication mechanisms of your smartphone.
Furthermore, the SSD has a stable and easy-to-handle case. Drop resistance up to 3m, shock resistance up to 500kg, and dust and water protection ensure reliable robustness and flexible application possibilities.
Features
SSD with encryption
Capacity: 2 TB
Transfer speeds of up to 1,000 MB/s for reading and writing
Compatible with Windows and Mac
App for iOS and Android
Includes: USB-C cable, USB-C to USB-A cable
The right equipment for your streaming setup
If you want to improve your streaming quality, your main focus should be on your streaming setup. When choosing your streaming equipment, it is crucial to consider the purpose you are streaming.
In most cases, optimizing your equipment can significantly improve your live streaming and have a better chance of getting more viewers. In the following, we'll tell you what to look for when choosing the right equipment for your streaming setup.
Which is the right streaming camera for you?
In general, you can say that normal webcams are usually perfectly adequate for live streams. Especially for Let's Plays, it doesn't matter how good the picture of you is, but that you can see the game well.
Of course, you can also use professional cameras to put yourself in the spotlight for live streams. Here you should make sure that they are compatible with the rest of your streaming setup.
Another alternative is apps like Elgato EpocCam ($8.99, iOS only), which can turn your phone into professional cameras with lots of features specifically for live streaming.
Choosing the right streaming microphone
Much more important than a good picture is a good sound for live streams. This is partly because streams are often used as entertainment on the side. If your viewers are doing something else on the side, they won't notice as easily if there's visual interference. However, if you have glitches in your audio, your viewers will immediately notice it in a negative way.
Another reason is that the voice is much more important for interpersonal communication than the corresponding facial expressions and gestures. If we hear only the voice without facial expressions and gestures, we can still understand what it is about.
However, if the opposite is the case, no communication can occur. Sign language is an exception to this rule. Since it is very difficult to follow bad audio tracks, they can become a reason for your viewers to turn off quickly.
Elgato Wave: 3 USB microphones with own mixer software
The Elgato Wave: 3 is a great choice for live streamers who don't want to spend a lot of time on technology but still want good results. It is especially suitable for live podcasts and streaming. It has a mute switch that works capacitively and is easily accessible on the top.
The microphone's biggest feature is its mixer software called Wave Link, which makes it possible to manage and mix the microphone and up to seven other (virtual) sources. Thanks to seven LEDs above the knob, the microphone itself can provide visual feedback.
The Elgato Wave: 3 can be connected and used directly without installing a driver. This works on both Windows and Mac OS. In general, the microphone convinces with easy usability.
Features
USB condenser microphone
Converter: 24-bit / 96kHz analog-digital
1 rotary control for microphone level, headphone, and mix ratio
Capacitive mute switch on the top panel
Visual feedback via LEDs
Low-cut filter
Switchable internal pop filter
Included in delivery: 2.5m long USB cable, thread adapter
Desktop microphone, headset microphone, or lavalier?
You can use table microphones, headset microphones, or lavaliers as microphones for live streams. Each of these microphone types has different advantages. Therefore, you should carefully consider which streaming microphone is right for you.
Advantages of lavaliers:
Records only your voice
No ambient noise
Small and unobtrusive in video
You can record hands-free
You don't have to worry about how close you are to the microphone
Suitable for recording situations in quiet environments
Not so expensive
Advantages of headset mics:
Records only your voice
No ambient noise
Automatically follows your head
Stays in position
It sits close to the sound source
Keeps constant distance from the sound source
You can record hands free
Good speech to background noise ratio
Not so expensive
Advantages of table microphones:
Usually, high recording quality
Better sound
Sound of voice more natural
More adjustment possibilities
It can look good in the picture
Sounds different depending on distance (variation in sound)
It does not have to be worn on the body
It does not need to be readjusted after leaving the recording location
However, keep in mind that with XLR microphones, an additional audio interface will be necessary. In general, you should make sure that you use a stand microphone that can block out ambient noise. Otherwise, typing on your keyboard, for example, can quickly become an annoying factor.
Do I need a mixer or audio interface to streaming setup?
You don't need a mixer or audio interface for live streaming per se. However, an audio interface becomes indispensable if you want to use an XLR microphone. A mixing console can also significantly improve your recordings.
If you want to stream yourself or your band recording music, a mixer is a good choice for recording because you can use it to mix the microphone and instruments together. A mixer is also a good solution if you want to change or remix your sound live.
An audio interface can also do this. But here, you have to mix the sound via software, which can lead to a complete loss of your stream in case of a technical malfunction, especially in live situations. Furthermore, make sure that your device has a USB output; otherwise, you have to reckon with losses in the sound.
Good lighting enhances your streaming setup
Have you ever thought about how important good and sensible lighting is for the quality of your streams? This aspect is often ignored. Therefore, here are a few tips.
Basically, you have several possibilities how to illuminate your streaming space. For example, ring lights are ideal for illuminating your face without blinding you.
You can also use two separate LED spotlights that illuminate you from the left and right. This also creates an even illumination without creating shadows.
In general, you should always consider the brightness in your streaming room when choosing the right streaming lighting. If the room is rather dark or you mainly record at night, you will need brighter lighting than in a sunlit room.
A green screen is beneficial for game streams
If you want to record Let's Plays or other gaming videos, it helps to use a green screen. This is only important if you want to be seen in the video alongside your game recordings as well.
The green screen allows you to include yourself in the gameplay footage seamlessly. You can hide your background, and there will be no unsightly borders.
The method used here is called chroma keying. The monochrome background of the green screen is removed, and you can place the subject in front of it digitally against any other background.
The backgrounds used for this are usually green because green, together with blue, is the strongest contrast to human skin color.
Another alternative without using a green screen is boxed, where you can show your camera shot. Here, you must keep in mind that your room background should be visible.
A capture card for recording from your console
If you want to stream a Let's Play of a game on a console, you can either use the methods described above. But if you want your stream to be of higher quality, for example, because you want to cut into the picture, you need a capture card.
The capture card records the material from the console and transfers it to your streaming PC. There you can edit these recordings. This is not possible on the console itself.
Streaming setup with two PCs
If you want to broadcast a Let's Play of a game in good quality, which requires a lot of CPU power, a streaming setup with two PCs is recommended because the streaming itself also requires CPU power.
With two PCs, one PC can take over the task of the streaming PC. This PC takes care of all processes that are necessary for streaming. The other PC can then run the gameplay music, and you can use programs like Discord or Teamspeak on the side.
To connect the two PCs, you also need a capture card.
Elgato Stream Deck controller for streaming
There's no limit to your creativity with the Elgato Stream Deck. The 15 LCD buttons control the Live Content Creation Controller. All of the tactile is one-touch operation. You can use it to switch scenes, launch media, and adjust your audio, among other things.
The controller can integrate tools like OBS, Twitch, Twitter, YouTube, and more in the process. You can enhance your streams with GIFs, images, videos, and audio clips. Also, you can control intro and outro graphics with it. With Elgato Key Creator, it's also possible to design your icons.
You can customize the Stream Deck and assign actions to the keys via drag & drop. To use more actions, you can collect them in folders. You can also easily save your shortcuts to recall them individually for specific games.
The Elgato Stream Deck is also available in an extended XL version, a more compact mini variant, and an app for Android and iOS.
Features
Live Content Creation Controller
For Windows and Mac
15 customizable LCD buttons
Integrated USB 2.0 cable
Includes adjustable stand
Additional accessories for your Streaming Setup
In addition to the equipment already mentioned, there are other accessories you can use to improve the quality of your live stream.
Noise filters
You can connect reflection filters and echo reduction devices to your microphone to improve your sound quality.
Pop shield
Besides using a pop shield on your microphone, you can also isolate your room sound. Foam insulation is particularly suitable here. This absorbs disturbing ambient noise. In addition, popping noises when talking is further reduced.
Anti-shock
With an anti-shock stabilizer for your microphone, you can additionally contain ambient noise. This is helpful if your streaming room is regularly exposed to loud ambient noise.
Extension cable
Webcams and microphones usually have limited length connection cables. Here, it's helpful if you can extend them with extension cables to keep your streaming setup as flexible as possible.
Additional tip: Individual Twitch overlay
Use individually designed banners and profile images. You can express what there is to see on your channel with these. This will make you more interesting for potential viewers, and you will be found faster by your target group.
In which software can you use your Streaming Setup?
If you have now put together your optimal streaming setup for you, the final question is which streaming software you use. There are several possibilities for how you can record your screen. Depending on the application, they are sometimes more and sometimes less suitable.
We present three of the most common alternatives here. You will also receive an additional tip.
OBS (Open Broadcasting Software) Studio
The most common streaming software is OBS. It is free of charge and contains many features that allow general streaming for any purpose. Functions for managing the streaming account are not available in OBS. However, you can upgrade these with third-party plugins.
OBS: Features
Transfer options: Browser windows, webcams, cameras, capture cards (all possible in HD quality).
Unlimited number of scenes
No time limit for videos
User-friendly interface
Integrated audio mixer with noise gate, noise reduction, and amplification
Support for VST plug-ins
You can set up hotkeys
Preview of scenes possible thanks to Studio Mode
Up to eight different scenes can be monitored simultaneously using the Multi-View function
Integrated compressor
Streamlabs OBS
Streamlabs OBS is a further development of OBS Studio, specially adapted for gaming streams. Here you will find all the features you need for your game streaming. These are all easy to use. Streamlabs OBS is also free of charge.
Streamlabs OBS: Features
Record and stream different video sources
You can easily add versatile widgets to scenes
Over 250 free themes to set the scene of the stream
Promotes closeness to the audience
Hardware encoding during video capture (graphics card handles much of the processing power)
Easy and fast initial setup
Multistreaming on multiple platforms simultaneously
Setup of a donation page possible
Own app store with all relevant apps for supplementation
Possibility to create own merch store via Streamlabs OBS
XSplit Broadcaster
Another alternative is XSplit Broadcaster. This is supposed to simplify the streaming process even more. A minimal version is also available here for free. If you want to use all the features, you either have to pay $230 once. Or you can subscribe to the software for either $20 per month, $35 per quarter, or $70 per year.
XSplit Broadcaster: Features
Allows you to merge content from different sources
Performs the functions of a mixer
Uses less power on the computer
You can easily insert sources such as whiteboards, text scripts, or 3D projections
It can copy sources from scenes directly into other scenes
Audio level can be set separately for each scene
Viewer Count
Function to upload your stream directly
XSplit Presentation Packager allows easy transfer of streaming configurations from one PC to another
Optimized for Elgato Stream Deck
Adaptive Bitrate allows to adjust the bitrate to the available bandwidth automatically
Twitch Studio
Twitch Studio is a free streaming software developed by Twitch, which is currently still in the beta phase. This software aims to make it as easy and comfortable as possible for streaming beginners. Twitch Studio is currently only available for Windows.
Twitch Studio: Features
Tuned for use on Twitch
Instructions for the first stream
Helps new streamers set up and customize their stream
Customizable templates
Includes everything you need to build your Twitch community
In-game overlay that allows you to chat and interact with your viewers more easily (planned)
Expanded integration of Twitch features (planned)
Twitch Music
On Twitch, you can stream gaming content and music. You have the opportunity to present your art to a community of millions of members and create a platform to interact with your fans. Also, you can stream the performances of your music worldwide.
You have different settings options to make your music sound the best possible. Twitch gathers a large community of musicians. These range from instrumental musicians, DJs, rappers, singers, and music producers.
Through Twitch, you can connect directly with your fans. Your fans can support you financially. Viewers can, for example, ask questions, exchange ideas, or request songs. Thus, Twitch is a way to bring your music closer to potential fans.
What does the future of live streaming look like?
The application areas for live streaming already go far beyond the streaming of gaming content. Livestreams of concerts, events, and conferences, for example, will continue to come to the fore in the future.
Especially in comparison with television, it can show a perspective. The special thing about live streaming is the direct interaction with the viewers. You can receive real-time feedback, respond to it and actively involve your viewers in the broadcast.
In the future, TV stations and large media houses will probably also increasingly use live streams that involve the viewers. Among other things, this will ensure that more and more people continue to discover live streams for themselves.
As the number of viewers continues to grow, so will the number of streamers. Gaming streams will continue to make up a large portion of live streams, as they are an ideal area of use for live streams.
Conclusion Streaming Setup
It is even more important that you properly set up your streaming setup with these very positive prospects. You can set yourself apart from other streamers not only in terms of your content but also in terms of quality.
If you want to focus on just one aspect, it should be the right microphone for now. The most important criteria for generating viewers is to be heard well. You can then add on the other streaming setup aspects as you go.
You can also read these articles: