The Roccat Kain 120 Aimo is the first step in a new direction for the German manufacturer. But is it the right way? Apparently, Roccat has delivered their masterpiece here and revolutionized the click. Find out whether this really worked out and whether the mouse is worth its price in our extensive Roccat Kain 120 Aimo review.
The Roccat Kain 120 Aimo is a sensationally good gaming mouse in the upper mid-range. Thanks to the perfectly flawless Owl-Eye sensor, it scores all points in the technology category. Unfortunately, the price of around $110 is a bit of a burden, especially since we miss features like weight tuning, detachable side buttons/cables or replacement skates.
Roccat's SWARM is a customization giant, and you have to admit that. Here you can customize everything you want; unfortunately, the LOD is not customizable. We're happy as a clam in terms of ergonomics except for the lack of rubber on the side. However, the Kain 120 completely swept the board in terms of build quality – extremely stable, high-quality and unique compared to the competition. A clear purchase recommendation from us!
Roccat Kain 120 Aimo Rating
High build quality, extremely stable, and unique design.
What We Like
Versatile shape
Good mouse feet
Excellent finishing
World class sensor
Extremely crisp clicks
Very good mouse wheel
We Don't Like
Expensive
No weight system
Performance not optimal
Slightly slippery on the sides
Unfortunately not with both hands
Price Performance & Features
Roccat has kept it quiet in the mouse sector for a long time, while many other manufacturers have released fantastic gaming mice. However, they have been tinkering with a new mouse that will be a severe contender in the market. The Kain line has three right-handed ergonomic models:
The less expensive Kain 100 has a different 8,500 DPI sensor installed
The Kain 120-AIMO, which we take a look at here
And there's also a cordless model, the Kain 200.
In this review, we took a look at the Kain 120 AIMO with ROCCAT's Owl-Eye 16,000 sensor. It has fantastic buttons with a patented click mechanism. And, of course, the company's own AIMO lighting. Fortunately, even considering its weight, it is a lightweight but very sturdy shell. By the way, all Cain mice are available in two colors: matte black and matte white.
As usual, the following table summarizes the most important features of the Roccat Kain 120.
Roccat Kain 120 gaming mouse: Important key features at a glance
Sensor : Optical, PixArt PMW3381 (Owl-Eye 16K)
Mouse switches : Omron D2FC-FK, mechanical (50 million clicks)
Ergonomics : Right-handed only
For hand sizes:  medium-small
Lighting : Completely RGB
Connection : Via USB – 1.8m cable
Genres : FPS, MOBA, RTS
Polling rate : 125-1000 Hz (1 millisecond)
Compatibility : Windows
IPS (Max. Acceleration) : 400
Programmable : yes
Number of Keys : 6
Max DPI : 16,000
Dimensions (cm) : 12.5 (length) x 6.5 (width) x 4.2 (height)
Total weight : 92g
Tuning weights : No.
Price : From $70
Guarantee : 2 years
Sensor & Technology
This is where the Roccat Kain 120 comes out on top. The proprietary Owl-Eye sensor delivers an almost perfect performance, only interpolating at higher DPI levels.
At the heart of the Kain 120 AIMO is a new version of ROCCAT's Owl-Eye sensor, the PMW3381, which is named PMW3389 sensor. In terms of tracking, it is top-notch and offers error-free and responsive feedback. Its features are those of the PMW3389, which means some sacrifices occur at 1,900 DPI and higher, but more on that later.
According to the technical specifications, the sensor tracks up to 400 IPS and 50G acceleration. There is no way to achieve such values in everyday use, but why not.
You can adjust the resolution in steps of 50 DPI between 100 and 16,000 DPI, and the available polling rates are 1000, 500, 250, and 125 Hz. I could not set the lift-off distance (LOD) in the software, but it is very low by default since the mouse stops tracking at the height of a DVD (2-3mm).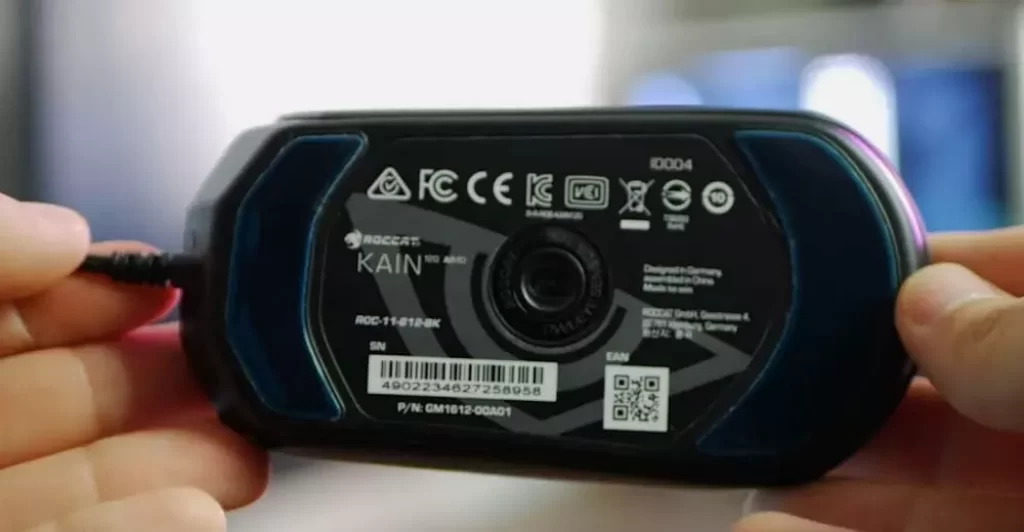 Roccat Kain 120 Aimo review: Tracking
As usual, we used the MouseTester tool to test the Roccat Kain 120's sensor, specifically the tracking. The result: Flawless tracking at a constant polling rate, even at low or very high mouse speeds.
In the graphic, you can see how even the tracking is at different speeds. No problems here, even if you make fast flicks. The polling rate on the bottom image is also constant and stable, with no outliers or dropouts.
Jitter, Angle Snapping, and Input Lag
The Roccat Kain also does very well in the jitter and angle-snapping test – no problems or complaints whatsoever. Moreover, nothing is straightened, and no pixels are skipped.
There is no measurable smoothing or other lag below 1,900 DPI. Above 1,900 CPI, some smoothing kicks in, resulting in an input delay of about 1-2 ms (but you don't notice it). However, if you turn the whole thing up to 16,000 DPI, the already 8ms come on paper. This is normal for us and has been the case with every sensor so far – but who gambles on 16,000 DPI? No one.
For serious gaming, I would recommend staying below 2000 DPI. Because a high DPI value doesn't give you an advantage, rather the opposite.
The values are within the usual range in terms of input lag and don't need to be mentioned.
Design & Features
The Roccat Kain 120 is convincing in this test category because the mouse is super comfortable (no matter which grips type). However, it is only recommended for medium to smaller hands, as it does turn out a bit short.
Most Roccat mice have a futuristic design that is anything but minimalist, but the Kain 120 definitely aims in a different direction. While it's not the best mouse you'll ever see, it doesn't look like a spaceship either. To begin with, you get the impression that it's an ambidextrous mouse. It doesn't have any aggressive grooves, and the shape is pretty straightforward and symmetrical.
While the Roccat Kain 120 AIMO does have a symmetrical design, it's not an ambidextrous mouse, as the two extra buttons are on the left side and easily accessible by thumb (and not removable) for right-handed users.
Whether you like this new design from Roccat is a matter of taste. In any case, there is finally an excellent alternative to the Roccat Kone.
As mentioned, the Cain is more of a mid-sized model and not too wide in the middle but has a relatively high profile. The case doesn't have any special features like edges or grooves, but even without that, the design subtly helps "pack" the mouse. The entire right side slopes downward for a more comfortable palm grip.
The Kain 120 is best suited for those who prefer the palm grip style, but it should also fit claw grips. For fingertip, it might be a bit too short for some of you, but you'll have to test that.
In direct comparison with a Roccat Leadr, you can see how narrow it is. So if you have a hand length of around 16-19cm, you should be happy here. The rest should instead go for a bigger mouse.
Unlike many other mice, the left and right mouse buttons are not placed next to each other. Instead, they are separated by a strip of polished plastic. This affects both the buttons (which feel comfortable) and the appearance. The scroll wheel and a DPI switch are located along the strip.
The layout of the main buttons is attractive here, as they protrude very far back into the "hump" of the mouse. This could be especially interesting for fingertip gamers, as the mouse switches respond smoothly even at the back.
We've never seen a button arrangement like this before, but that doesn't have to be a bad thing. And we have to say; it even works very well!
Enjoying this article on Roccat Kain 120 Aimo review? You can read our another review on them: Roccat Elo 7.1 Air review: Best headset for $100?
Finishing & Quality
There are two color options for all Cain models: the Cain 120 is black, and the 122 is white. The other two Cain mice follow the same principle.
Almost the entire surface and sides are covered with a new matte UV coating that is rather soft to the touch. This doesn't seem to collect fingerprints, which is good news. A shiny insert in the top center section looks like brushed aluminum, but we're pretty sure it's just plastic. This is good, though, since aluminum weighs way too much for gaming mice.
The scroll wheel has a heavily textured rubber surface, and the DPI button feels like it's made of silicone.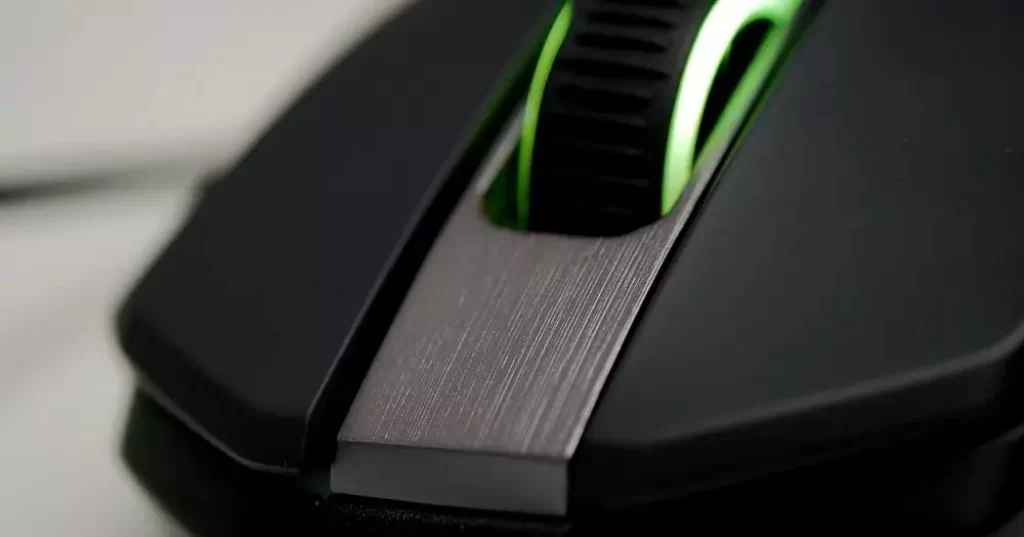 As mentioned earlier, the sides don't have a different surface coating, which might be a problem for some of you. While this UV coating is grippy, so the mouse doesn't slip out of my grasp, it does make me miss the rubber feel of a Razer Deathadder a bit in extremely heated situations. But again, this is completely a matter of taste; some of you will love this.
The bottom plate and front area are made of matte black ABS plastic, just like the side buttons – but these have some slick-looking glossy inlays in the middle for design purposes.
Build quality is pretty much perfect. There are no creaking noises when pressing the side panels, no clacking when shaking, nothing gives way and sits bombproof. We have rarely had such a sturdy case in a gaming mouse in our hands. The inner workings are also very well put together, and we didn't find any bad solder joints.
Switches / Mouse buttons
Roccat Kain Aimo mice have always been ahead of the game in terms of main buttons, but the buttons on the Kain 120 are simply stunning. I'm not sure I've had objectively better mouse clicks before (maybe a SteelSeries Rival 600 comes close). The main keys are extremely good, crisp, and tactile, as well as having no unnecessary travel – just a fantastic click feel.
You can easily spam-click them, and the medium tactility is just right to avoid misclicks. Roccat uses a patented click retention mechanism here that is quite intricate. Both main switches sit on small separate circuit boards and are Omron D2FC-F-K models with a lifespan of 50 million clicks. Ergo, you can click like crazy here.
We can say that the main buttons are extremely good, crisp, tactile, and have great feedback without being too loud. Objectively speaking, these are among the best mouse buttons we've ever tested.
Mouse Cable
The Kain 120 AIMO uses a braided cable, which is pretty good in terms of flexibility. It's also pretty light and doesn't create too much resistance. It's similar to the cables on the Razer DeathAdder Elite or SteelSeries Rival 600, and this cable is 1.8 meters long, which should be enough for most of you. The port uses the USB 2.0 standard, but unfortunately, the cable is not detachable.
Mouse wheel
The mouse wheel on the Kain 120 is objectively pretty much the best I've ever tried. But from a subjective point of view, it might be a bit too tactile for some people's tastes: it's definitely better for precision than hours of browser scrolling. The tight-fitting scroll wheel has zero wobbles and no play in the notches. The surface is made of a heavily textured rubber, which gives it a great feel – no accidental slipping here.
In addition, the mouse wheel is also quite large and wide, which gives it some extra comfort points. Only the mouse wheel click is perhaps set a bit too hard.
The side buttons also feel absolutely fantastic. They are moderately easy to press and have virtually no unnecessary play.
Mouse feet
The Kain 120 glides on two large mouse feet, which are just awesome after removing the protective film. The Kain 120 slides smoothly over your mouse pad with minimal friction. The feet themselves are very smooth, with well-rounded contact points, so there should be no scratches. Our only complaint with this is that there are no replacement sets.
Software & Customization
ROCCAT's all-in-one software is still Swarm and one of my favorite mouse software. Everything is intuitive, easy to use, and only downloads modules for devices used. This keeps your PC from getting cluttered unnecessarily.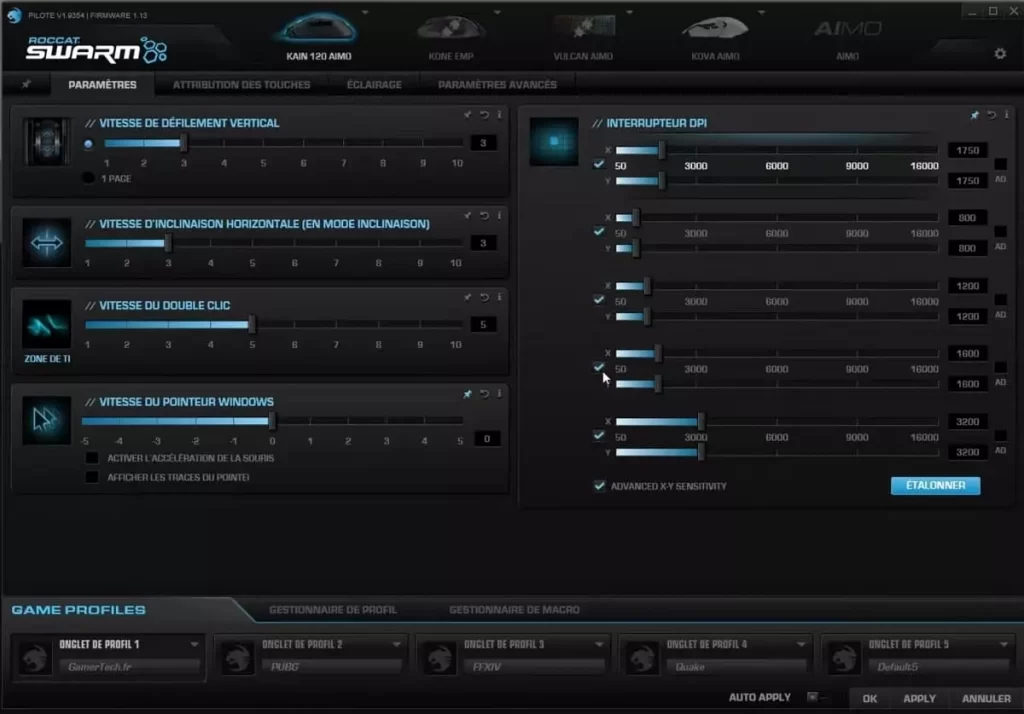 Profiles and technical settings
The main screen contains most of the Windows settings as well as DPI settings. There is a bottom bar with your profiles, and you can also access the profile and macro manager from here. The Key Configuration page contains all of your key mapping options, of which there are many.
Roccat also offers an Easy Shift option as usual, which adds an extra layer of keybindings. The "Lighting" tab contains most of the lighting settings—more on that below.
On the Advanced Settings tab, you can also set the polling rate, LED sleep timer, angle snapping (I'd highly recommend leaving this disabled), audible feedback, and a feature called Zero Debounce (enable this, it reduces click latency). But if you notice unwanted double clicks, disable this option.
RGB settings
Roccat's Aimo lighting system has been around for a while and is basically AI-controlled (the machines are already taking over your mouse). It changes colors and intensity depending on how you use your mouse, responds to clicks, swipes, etc. And of course, it looks fantastic.
Plus, of course, you can sync Aimo-enabled products if you have other current Roccat products. Features and patterns like breathing, permanent lighting, and heartbeat effects are all there.
As seen in the photo: The lighting is very bright, so our camera couldn't compensate for that. The colors are very nice and vibrant, and the transitions are smooth and soft. You can choose up to five different effects or turn everything off.
Roccat Kain 120 Gaming Performance review
Sebastian tested the Roccat Kain 120 extensively in all genres for a few days.
Due to the perfect and flawless sensor, it delivers in all genres. But for MMORPGs, it probably lacks a few side keys. The missing rubber coating is also sometimes missed in shooters, but the grip is still sufficiently good.
The most important gaming-relevant points: 
The sensor is accurate, with no dropouts, no straightening, or anything else. Spot-on tracking even in shooters.
The switches are among the best we have tested.
It fits very well in hand and has a pleasing shape, especially for Palm Grip with medium-sized hands.
No extra buttons, arrangement of the buttons very good, nothing gets in the way.
The mouse feet glide perfectly, with no resistance or anything else.
Conclusion to the Roccat Kain 120 Aimo review
The Roccat Kain 120 AIMO is a mid-upper end gaming mouse with a solid design, some of the best build quality we could get our hands-on, and several options to customize the mouse to your preferences and play style.
The titanium switches feel very good and help the Roccat Kain 120 AIMO stand out in an increasingly crowded market. While the mouse doesn't offer advanced customization options like swappable weights or extra buttons, it is supported by solid software.
It is a perfect gaming mouse where we can only grumble at a high level for the price. Hope this Roccat Kain 120 Aimo review helps you to know about the gaming mouse.
You can also read: