Spray painting is a fun and fantastic way of painting. Spray paint also contains harmful additives, so it is important to wipe it off your skin if you accidentally come in contact with some. It also becomes permanent and very difficult to erase if it sits on any surface for too long. Do you know how to remove spray paint? If you make a mistake by covering the wrong surface, there are many steps you can follow to undo your actions.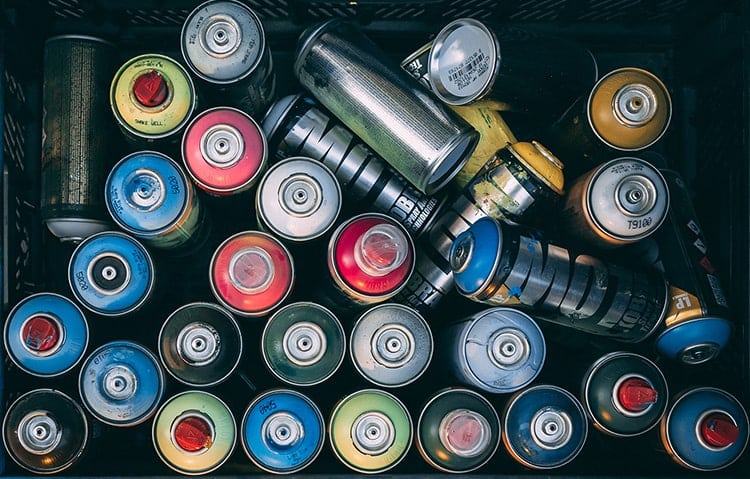 What is spray paint?
Spray painting is a way of painting involving a tool that sprays paint onto any surface. Spray paints are popular and approved by many because of their various applications. They can be used on several surfaces, your including skin, plastic, metal, and wood, concrete, the list goes on.
From handcrafted projects to something as professional as house painting, spray paints serve their purpose in many ways. Typically, they are used for decorative purposes. For instance, spray painting an old wine bottle and turning it into a fancy showpiece. However, there is a downside to this. Spray paint can be tremendously difficult to erase if you accidentally spray on the wrong surface.
Remove Spray Paint from Your Skin
If you happen to get some spray paint on your skin by a mere chance, do not worry. Spray paint from the skin is comparatively easy to wipe off. First off, look through the manual of the label of your spray can to discover if you have sprayed yourself with a water-based paint or an oil-based one.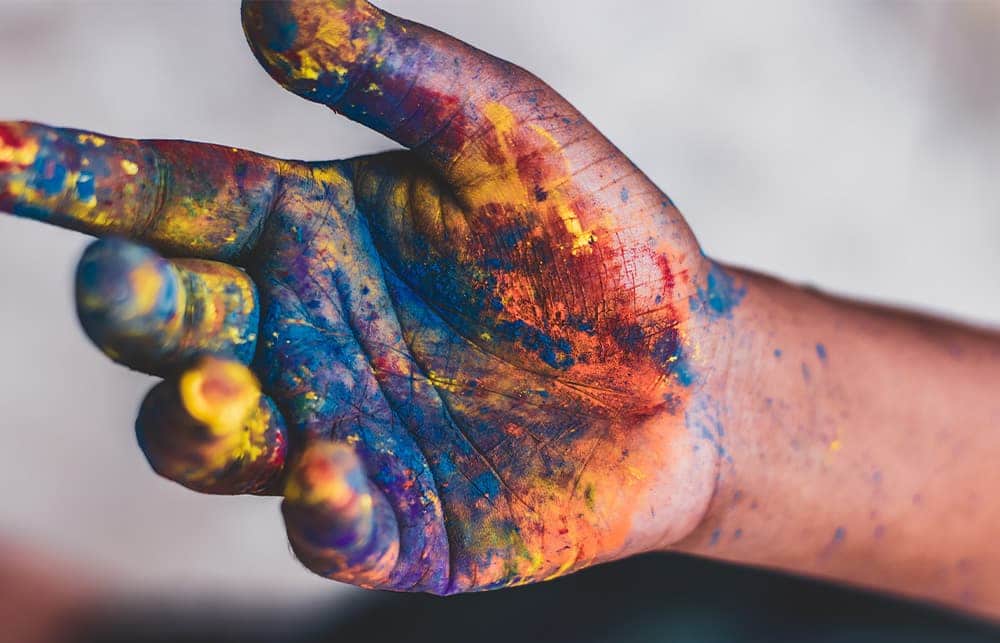 Water-Based Paint
If you want to wipe off spray paint from your skin and your paint is water-based, then wash your hands with warm water and use a few droplets of dish washing soap. If the paint still does not seem to come off, then rub your hands together well. You may also gently rub a toothbrush or a sponge across the part of your skin that came in contact with the paint. Rinse it off, and remember to clean off your washbasin immediately.
Oil-Based Paint
On the other hand, if your paint is oil-based, then, ironically enough, you need to use oil to scrub off the oil! Essential oil, oil extracted from olive or coconut, or even baby oil, and will do the job just as fine. Dip your hands in oil, gather a generous amount, and keep rubbing your hands together, just like you would do during washing your hands off with hand wash. Simply rinse off with water and wait for astonishing results. Remember to rinse your sink immediately.
How to remove spray paint from plastic
Plastic is one of the surfaces spray paint is the most test on. It is a prevalent practice to get the wrong shade of paint on a plastic surface.
Sadly, getting spray paint off of a plastic surface is a process of cut and try analysis. There is no specific way to do this. The list below contains some of the supplies you need to have on hand before attempting to remove spray paint from plastic surfaces.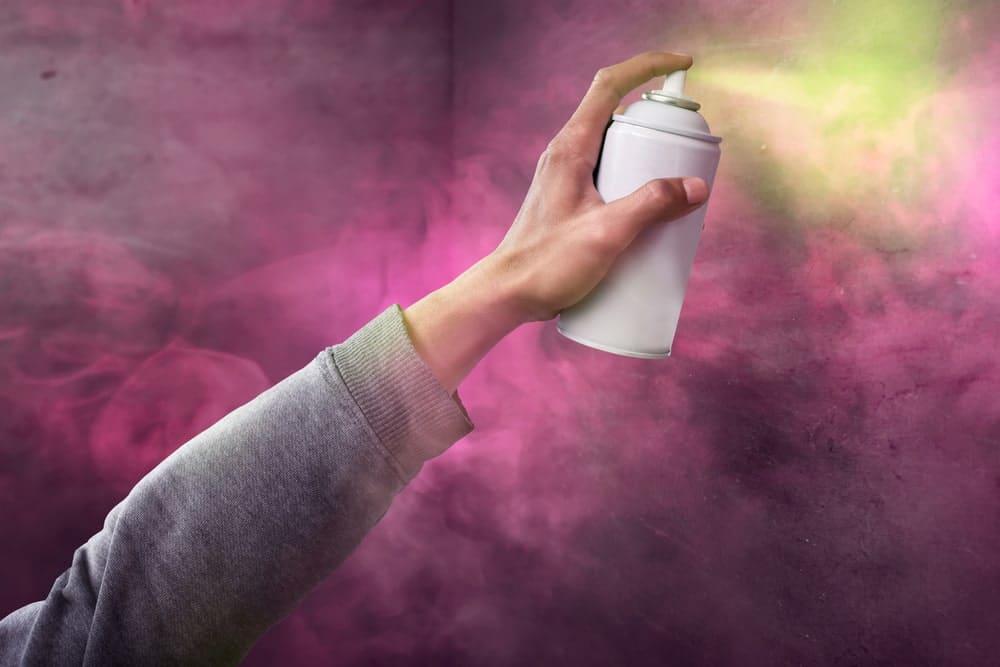 To remove spray paint from plastic, you need to have warm water, soap, towels, brush, and paint remover near your work station. If the paint has just been sprayed on the warm water can do its magic. Splashing a generous amount of water on the affected area can lead you to your desired results without having to try using soap or paint remover and thus refraining yourself from jeopardizing the quality of the plastic surface.
Start by splashing warm water on the region and rinse the surface.
If warm water does not work, then try incorporating a little amount of soap.
The soapy mixture is sure to wipe off the pain, and then you can simply rub a towel, paper towel, or brush against the surface to remove any residue.
Opt for the brush if the paint is heavy and nothing else works. Throw in a bit of elbow grease to make the process efficient.
If none of the above options work, then go for the paint remover solution. Increase the amount gradually.
However, watch your step because any mistake can cost you the surface of your plastic.
Do not leave the solution for an extended duration. Remove the overabundance amount of remover solution as soon as you start seeing your paint coming off.
How to remove spray paint from metals
Paint remover solutions seem to be the most comfortable option when it comes to removing spray paint from metal surfaces. Apply a thin coat of the remover solution on the affected area and wait for a few seconds before thoroughly yet gently wiping it off.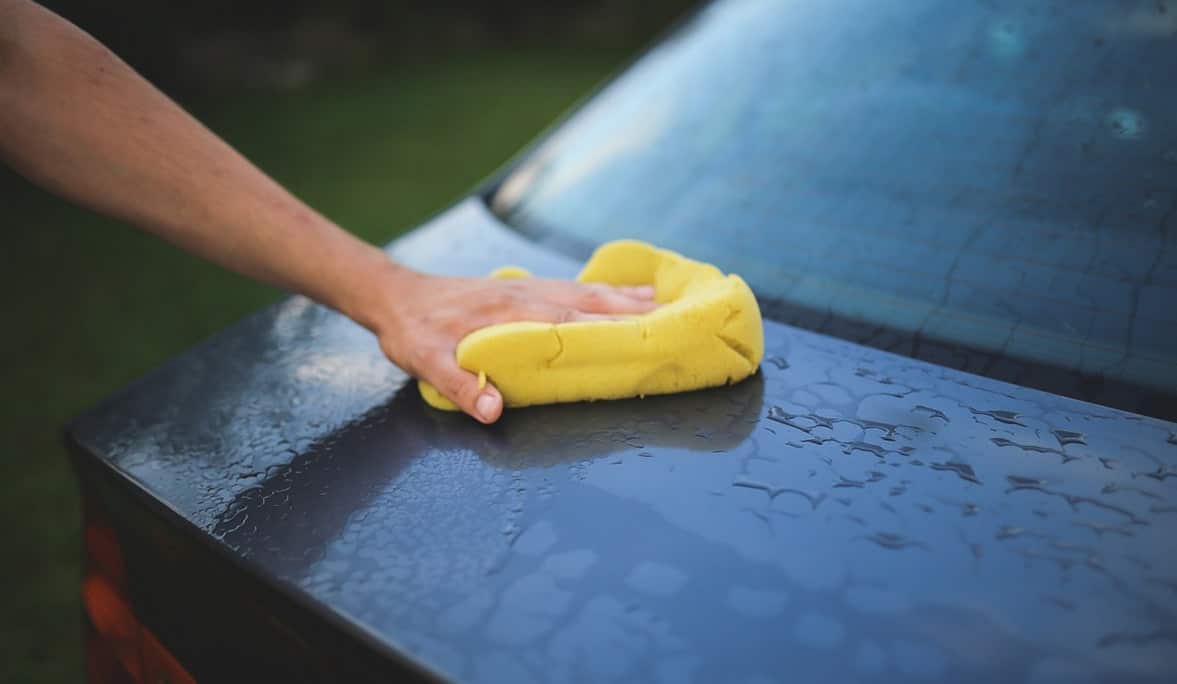 There is a spray-on paint remover solution available in the market for metal surfaces with a lot of angles or not smooth edges.
Stripping gel
Stripping gel is a kind of paint remover and is often used to erase spray paint off metal surfaces. Secure your eyes and hands from any type of hazard by putting on safety goggles and gloves while using this.
Gently wipe over the spray paint with the stripping gel and apply a thick layer using a brush. Wait as long as the packaging suggests before removing.
If the paint begins to bubble after the waiting period is over, it indicates the gel is ready to be removed.
Use a recycled plastic bag to remove the gel and then wipe off with a rag vigorously until no residue is left behind.
After all of the paint is wiped off, rub the surface with a piece of cloth that has previously been dipped in nail polish remover.
Soapy hot water
Another simple yet popular way of removing spray paint from surfaces is dipping a piece of cloth in soapy hot water and gently rubbing across the surface.
Use a bristle to prevent any scratches. The soap incorporated with the warm water acts as a grease remover.
Remember to rinse the cloth off often. Avoid using rubbing compounds on a metal surface to remove spray paint.
If this way doesn't seem to suffice, opt for another option.
Clay cleaning bar
Using a clay cleaning bar might be a wise choice, for instance. You can add this to the mixture of warm soapy water to increase efficiency and for better results.
Rub the clay bar on the barely affected surface. This step itself is supposed to wipe off the paint.
Simply brush off any excess paint or any residue.
The simplest way to remove spray paint from a metal surface is eliminating stains with the help of a rag dipped in rubbing alcohol.
Squeeze out the excess liquid and repeat until the paint completely fades off.
You can also read:

 How to Clean Velcro
Wipe off spray paint from concrete surface
Spraying any concrete surface with spray paint and regretting immediately may throw you off into some kind of pickle. Nevertheless, just by following a number of steps, you can recover.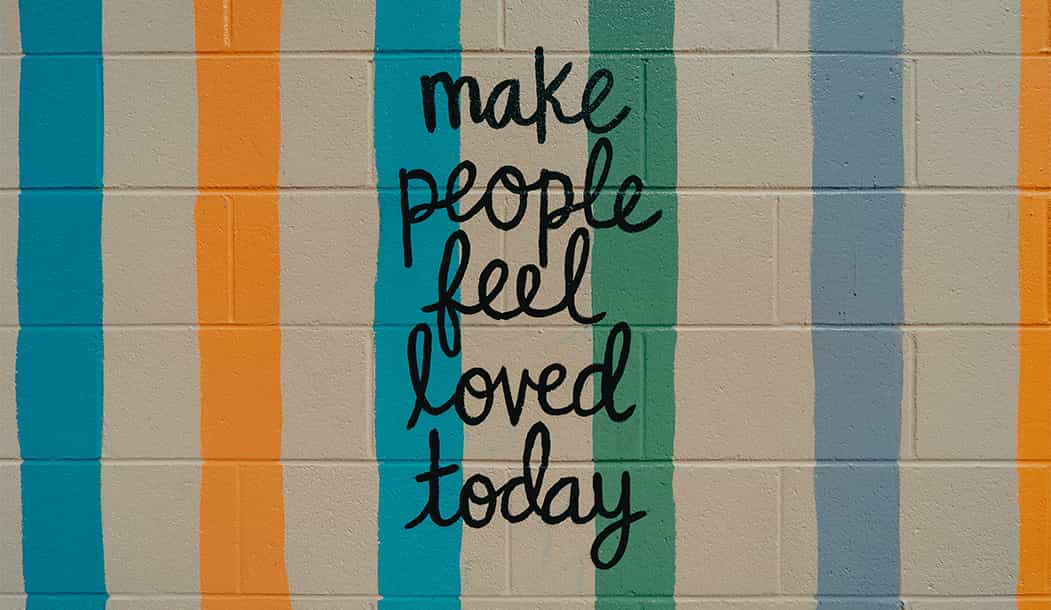 First off, saturate the stained area with a paint remover solution. Before going further, scrub off a little to monitor how the remover solution and paint react to the concrete surface.
If the mixture causes any kind of damage, opt for a different option as a solution.
However, if everything seems to go well, let the mixture sit there for a while before scrubbing it off entirely.
Spray pressurized Hot Water on the area that came in contact with the paint.
The second step is to exert pressure on the surface with any sort of power washer you have access to. This will dilute the painting that the remover solution has been sitting on. This step will minimize any kind of damage that may occur on your surface.
Spraying pressurized water should start removing the paint. If not, try pointing it from different angles until you begin to see changes.
Gently rub the surface using a stubble or Wire Brush.
Next, we have the fun part, as a lot of reviewers conclude, the scrubbing part. If you are lucky enough, you will not see yourself doing this. The paint should come off with whatever you did until the previous step. But if you are not, keep reading.
Start scrubbing with a wire brush if you start to see some progress and you want to remove the paint completely. You can throw in some elbow grease if you are willing to make the procedure as efficient as possible.
Apply a thin layer of the remover solution again until the paint Completely Starts to Fade and repeat gently rubbing off with a wire brush.
If the previous steps do not lead you to your desired outcome, repeat steps 1-3.
Begin by brushing on a layer of the remover solution and then repeat the whole process step by step. If you have made it until here, chances are you are pretty successful at removing paint from the concrete surface.
The last step, you need to do before sealing the deal is to throw in some soapy hot water on the affected area and thoroughly rinse the surface. We do this in order to remove everything that might be lingering on the surface.
How to remove spray paint from a car
Let's hope you do not find yourself on this part of the guide, but on the hundred-to-one shot you do, find out what happens. Cars are beloved to us all, and getting spray paint on the car is not a pleasant surprise.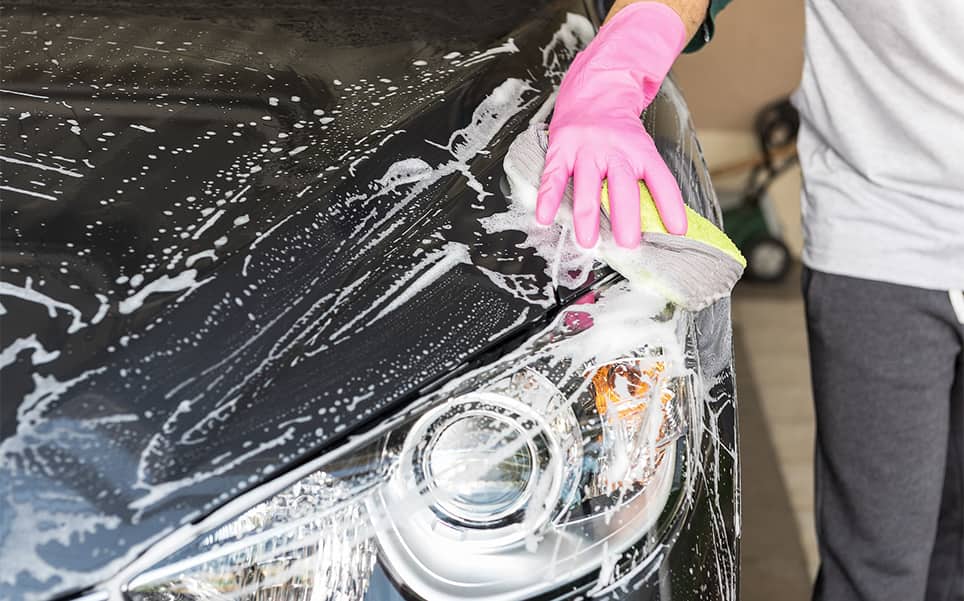 Follow these steps to get rid of spray paint off your car.
Warm water with Detergent
First and foremost, we need to treat the surface with soapy water.
Use warm water combined with mild detergent.
For instance, use dish soap or a car washing solution.
Scrub it off with the help of a dishcloth.
This method will do its trick if the paint has not settled down entirely. The sooner you can wipe off the paint. The process gets more complicated as the paint it's longer on the surface.
With Nail Polish Remover
If this step is of no use, then you can try erasing the paint with the help of nail polish remover.
Start by pouring some on a piece of cloth or a towel and rub gently over the affected area. This should do the trick.
Wash it off well and rinse thoroughly when you are done.
For safety and preventing further damage, you may add a coat of wax after the process of wash and rinse.
Use Clay Kits
One other way of removing unwanted spray paint from your car's surface is using clay kits. It works well and is well known for its efficiency. Most importantly, it works gently on your original car paint. Follow the instruction manual the kit comes with to avoid any damages. Remove the paint with the help of the kit and a bristle. Wax your car after you are done
Rubbing Compound
Other ways to treat the area concerned involve a rubbing compound. You can purchase Rubbing Compounds from any auto parts store.
The process of removing spray paint using a rubbing compound is to pour a generous amount on a dry cloth and vigorously rub it on the surface.
Lastly, try to treat with Petrol. It may damage the original color of your car a little, but it will get rid of the paint. Opt for this option only if the unwanted paint covers a small region. Otherwise, this may result in damage to your vehicle.
Waxing your vehicle after removing the paint is a good idea. This makes the spray paint easier to remove if these repeats. Waxing your car is vital.
Final Thoughts-
Spotlessly Removing Spray paint or graffiti from any surface can be one hell of a job. It is vital to take care of your surroundings while you are working with spray paint. This is because spray paint contains chemicals and additives that are toxic. However, they are super fun to work with. Unleash your inner artist but also be sure to look out for yourself and your environment. If you find yourself wanting to remove spray paint off from surfaces, hopefully, this guide can come to your help.
Hope this tutorial guide helps you to get your answer your question. Now you know how to remove spray paint from any kind of surface you want. Also, you can read another article on best airless paint sprayer to paint your home or business objects.
---