The best thing about the PDF format? It looks the same on every system. No one messes with your document, messes up all the formatting or changes the content. But there is one problem: If you want to edit a finished PDF, even just to adjust a small detail, you need a special tool. Many programs that you can use to edit PDFs are quite expensive. But don't panic! We have the best free alternatives for you to download that you can use and edit PDF for free.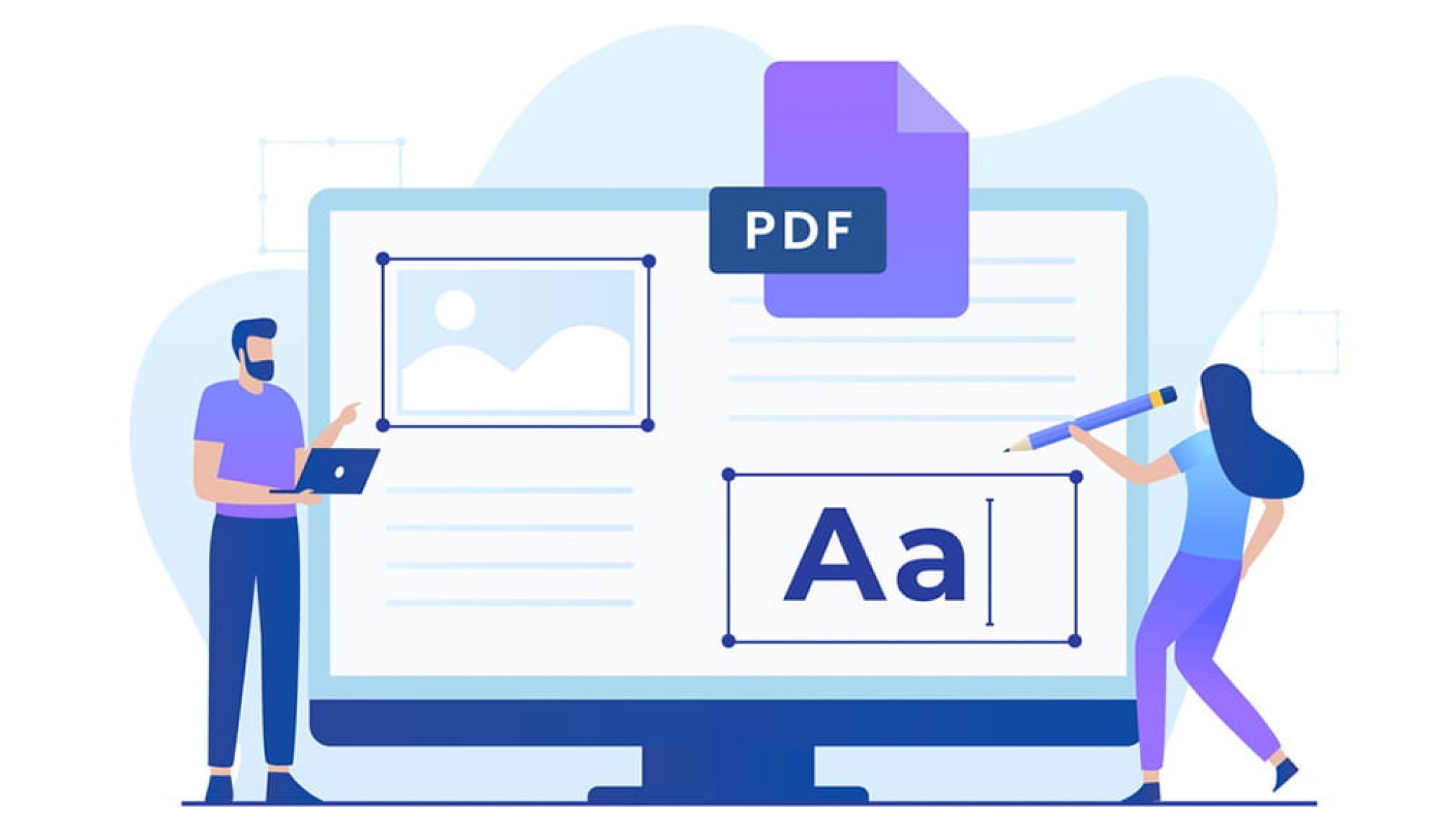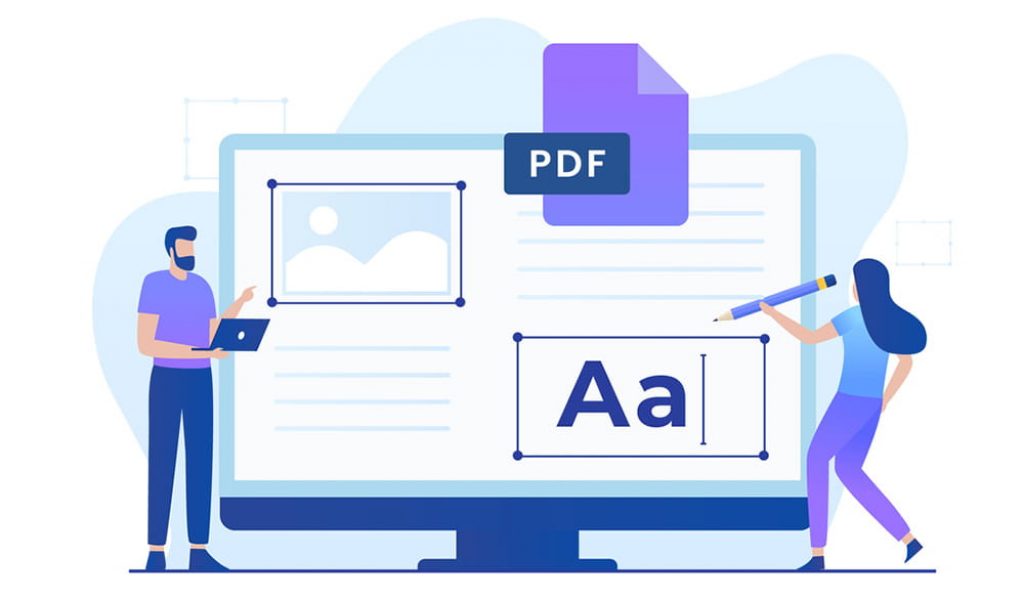 The PDF format has a number of advantages: Once created, no one can tamper with your document, and the formatting also stays in place. However, it becomes awkward when you want to make changes to the finished file afterwards. There are also some good and, above all, free alternatives. This article will find out what these tools are and what advantages and disadvantages they have.
What is the PDF format?
The "Portable Document Format", or "PDF" for short, is a format developed by Adobe Inc. for exchanging electronic documents, allowing them to be passed on in their original form, regardless of the operating system or application.
Can I create files in other formats with a PDF program?
Yes, with some tools, this is possible. For example, PDFCreator, which we present in this article, also creates documents in PS, EPS, PCL, PNG, JPEG, BMP, PCX, TIFF or PSD formats.
Are there free tools that I can use to edit PDFs online?
There are several online services, such as PDF2Go, that allow you to edit PDF for free without installing any additional software. However, the range of functions is usually very limited compared to the offline tools. Besides editing, now you could even use a free PDF converter by theonlineconverter.com to convert files to and from PDF document files.
These are the best free programs for editing PDF
PDF24 Creator – The all-rounder
With its funny sheep logo, PDF24 Creator looks quite cute and playful at first glance. But the truth is that it is a very powerful and effective tool for editing PDF files for free.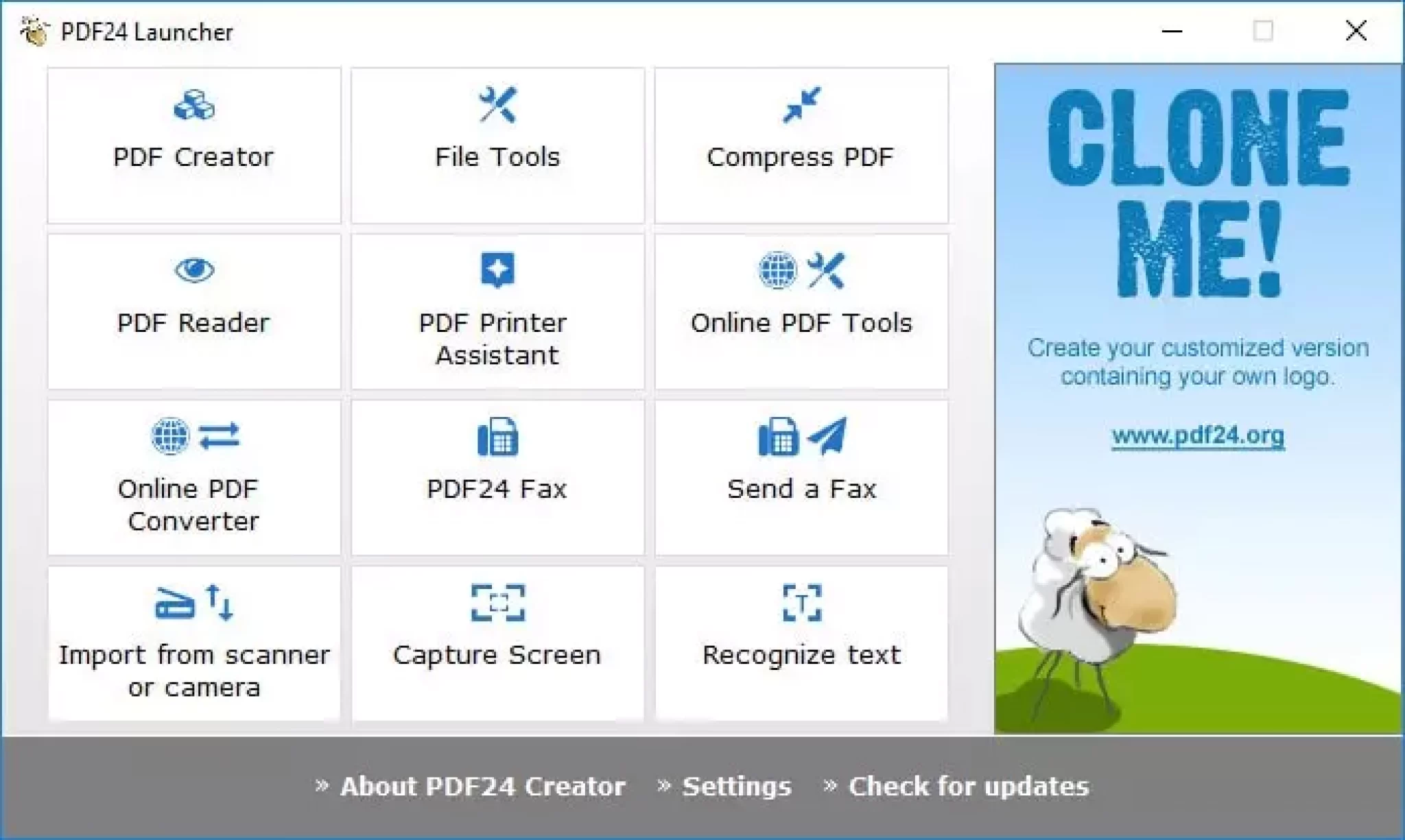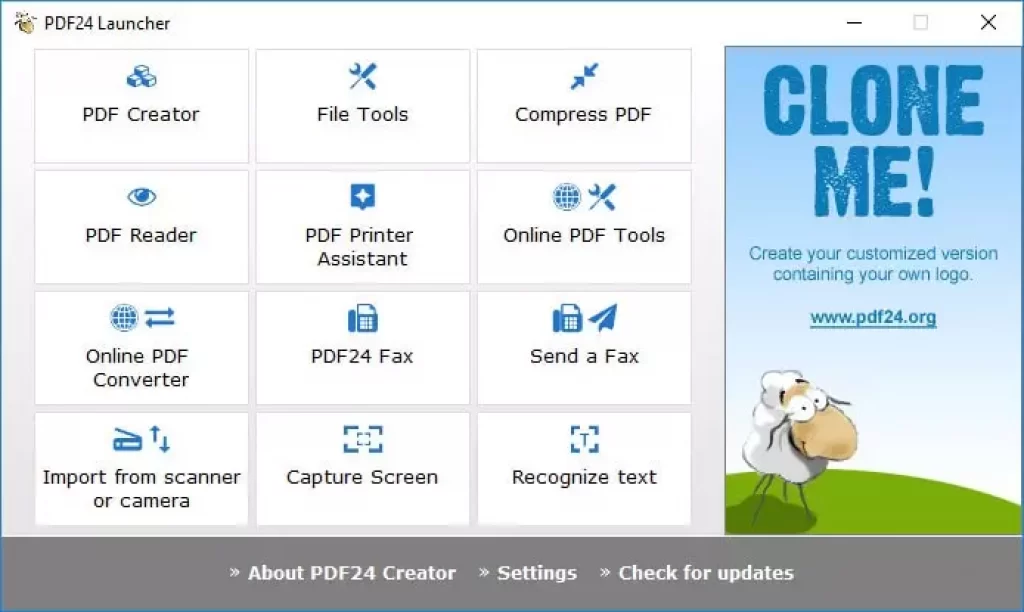 The PDF24 Creator offers by far the largest range of functions in the tools presented here.
For example, you can use it to create multi-page PDFs from single documents or add or remove selected pages. As a basis for this, you can use Word texts and Excel spreadsheets, as well as photos or graphic files.
For this, PDF24 Creator installs a virtual printer on your system, which also appears in the Control Panel. If you select "Print", the application will send the corresponding content to the PDF24 Creator instead of a connected device. Then you an create and edit a PDF file for free from it.
The software includes a function that allows you to reduce the size of PDF files and thus save a lot of space, for example, on the web or when sending emails. Digital signing is also no problem with the tool. In addition, OCR text recognition and password protection are also included in the range of functions. If you register with your email address, you can also use PDF24 Creator for free faxing.
Tip:
At
https://tools.pdf24.org/en/
PDF24 also offers a large collection of various online tools with which you can perform edits directly in the browser.
Advantages
Large range of functions
Free for private use
Can also be used for faxing
Password protection for PDF
Local installation & cloud service
Ashampoo PDF Free – For Windows & MacOS
The first thing that catches your eye about Ashampoo PDF Free is the clear and tidy user interface, which you can quickly find your way around without having to spend a lot of time getting used to it. Besides the obligatory functions for opening, viewing, editing and creating PDF files, the program also offers a handy "stamp feature" that lets you mark your documents as "Draft" or "Confidential", for example.
Moreover, you can add comments (in geometric text boxes or free text) to selected sections or mark paragraphs. A function for filling out forms is also already integrated with Ashampoo PDF for free.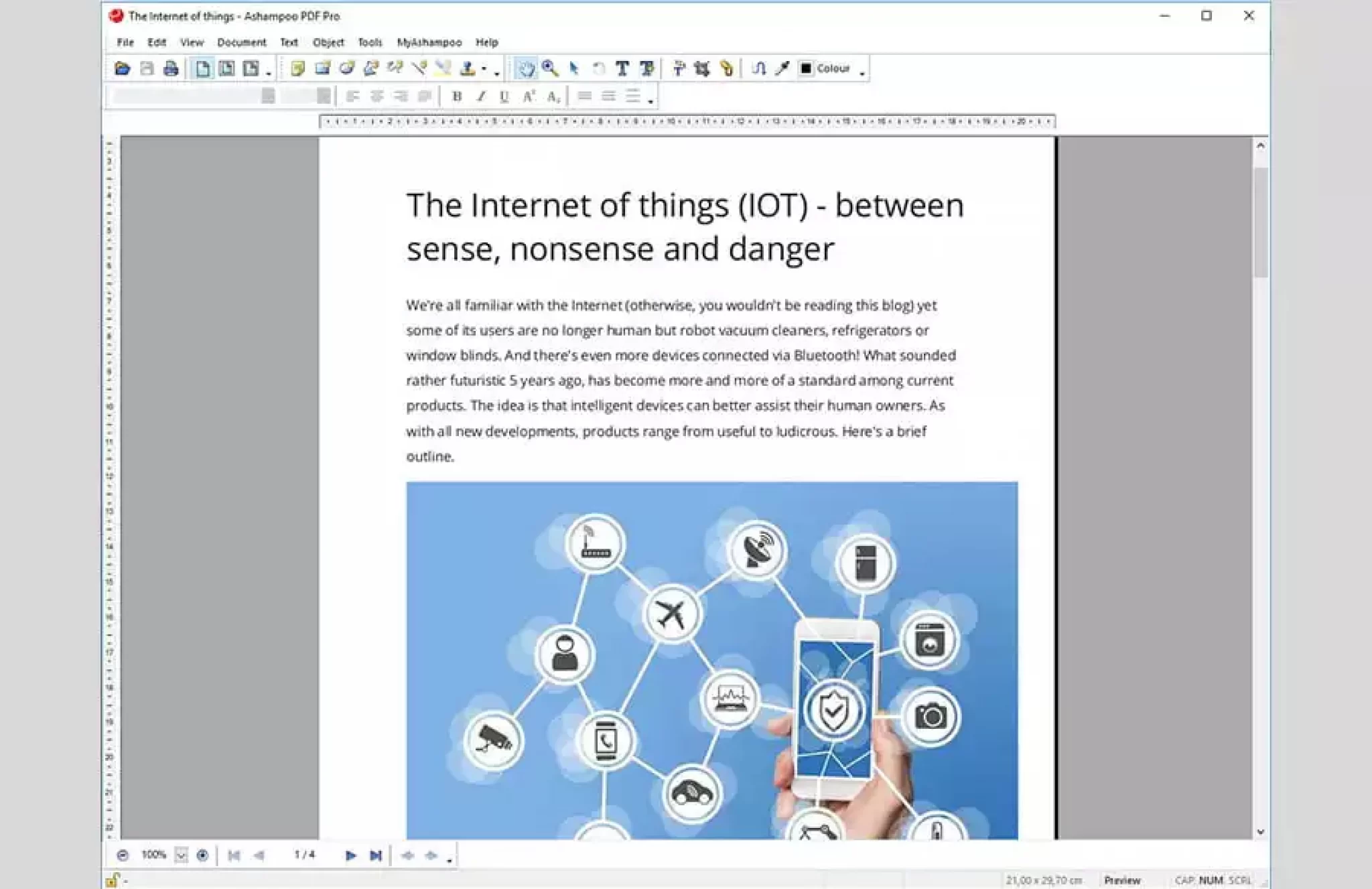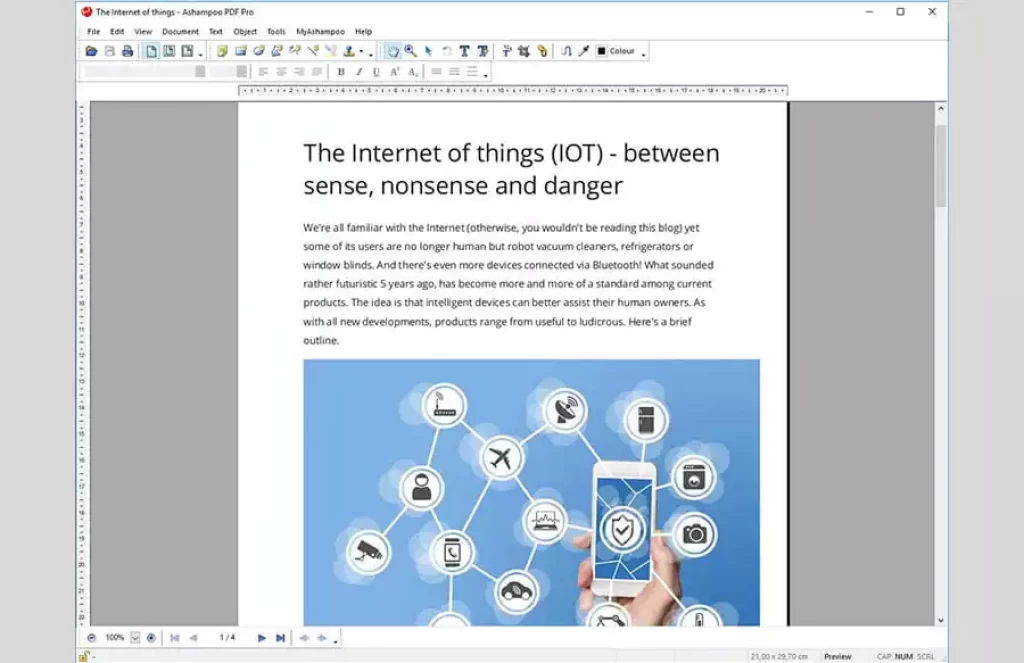 In addition, you also can add or remove individual pages or change their position within the document, and exporting dedicated pages is also possible with it.
Analogous to most other PDF programs, the files in Ashampoo PDF Free are also created directly from the Windows applications via an installed printer driver. The software can be used free of charge, but an email address is required to activate the account (the license key is also sent to this address).
Advantages
High ease of use
Large range of functions
Clear user interface
Disadvantages
Creates links to Ashampoo apps
Requires email registration
PDFCreator – The reliable one
The open source tool PDFCreator is also installed as a printer but can even act as a central network driver for multiple users if required. There are two options for creating PDF files: You can easily create the documents directly from the respective application using the "Print" function, or you can open the file directly in PDFCreator.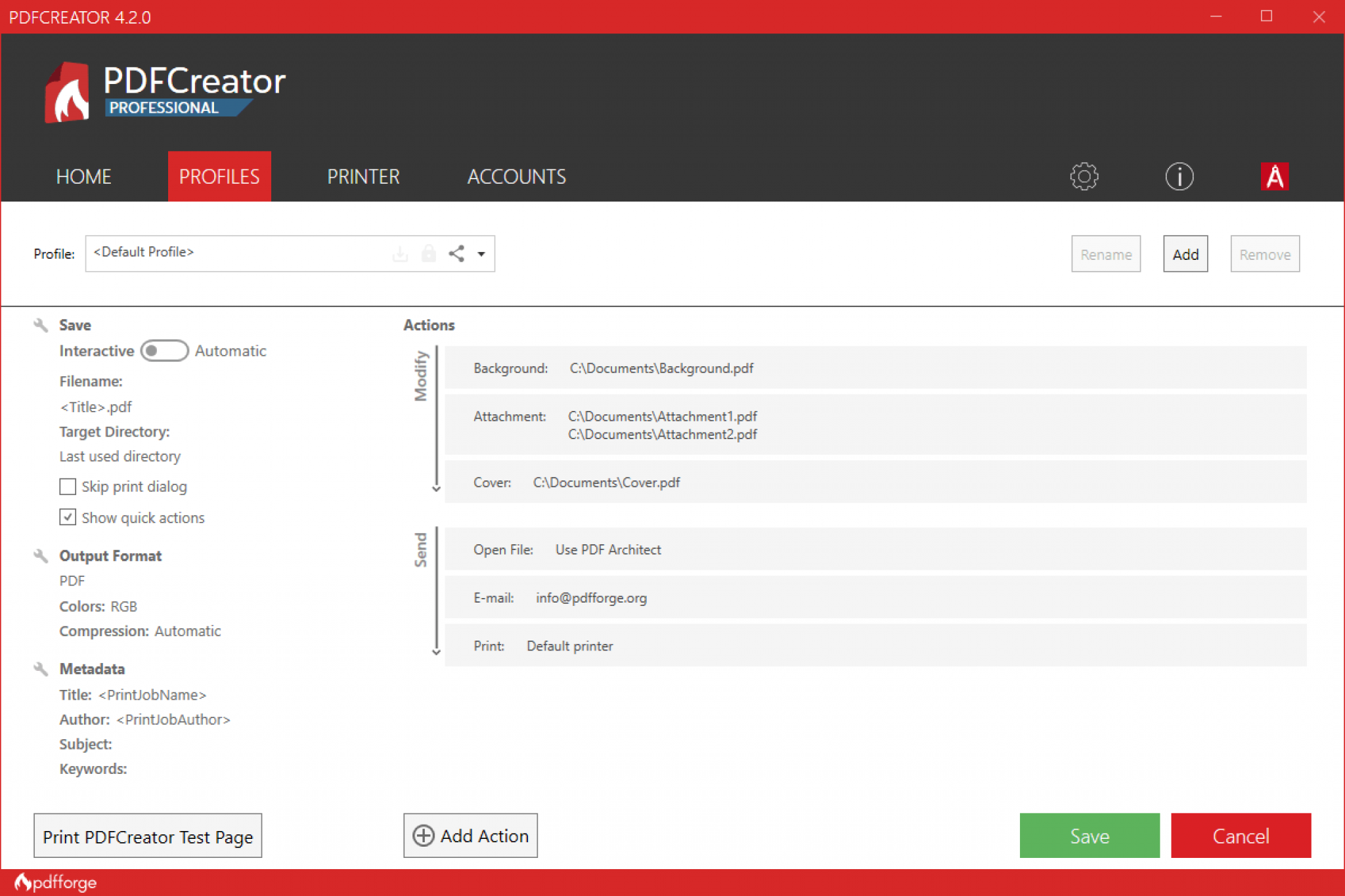 The program also offers numerous options for editing. Among other things, it lets you rotate documents, compress images and texts or protect your contents with encryption.
In addition, you can insert digital signatures, print your documents or send them automatically via email. For less experienced users, there is a standard profile with the most important settings. There is an extensive setup menu for advanced users with numerous further configuration options.
Good to know: With PDFCreator, you can not only create PDFs but also handle PS, EPS, PCL, PNG, JPEG, BMP, PCX, TIFF or PSD. Thus, you can turn a text document into a photo file in a few simple steps.
The free office alternative LibreOffice also offers a function that allows you to edit PDF for free. You can learn how this works in this video.
Advantages
Converts different formats to PDF
Many options and settings
Password protection for PDF
Creation of graphics possible
Disadvantages
Comes to its limits with many pictures from time to time
Installs additional applications if these are not explicitly deselected during installation
Enjoying this guide on edit PDF for free? You might also interested to read in Which tablet is suitable for school?
Soda PDF – The online solution
No installation is necessary to use Soda PDF. The Canadian manufacturer LULU Software distributes its solution as SaaS ("Software as a Service"), where the editing of documents takes place directly in the browser window.
Those who prefer to work offline can also download a desktop version of the program. There are no differences between the two versions in terms of functionality.
The core functions include opening, viewing, printing, converting and merging PDF documents. It also lets you rearrange pages, makes changes, add additions or add a digital signature to the document, among other things. Besides, Soda PDF also has a handy tool to shrink files, which is especially useful for sending email attachments.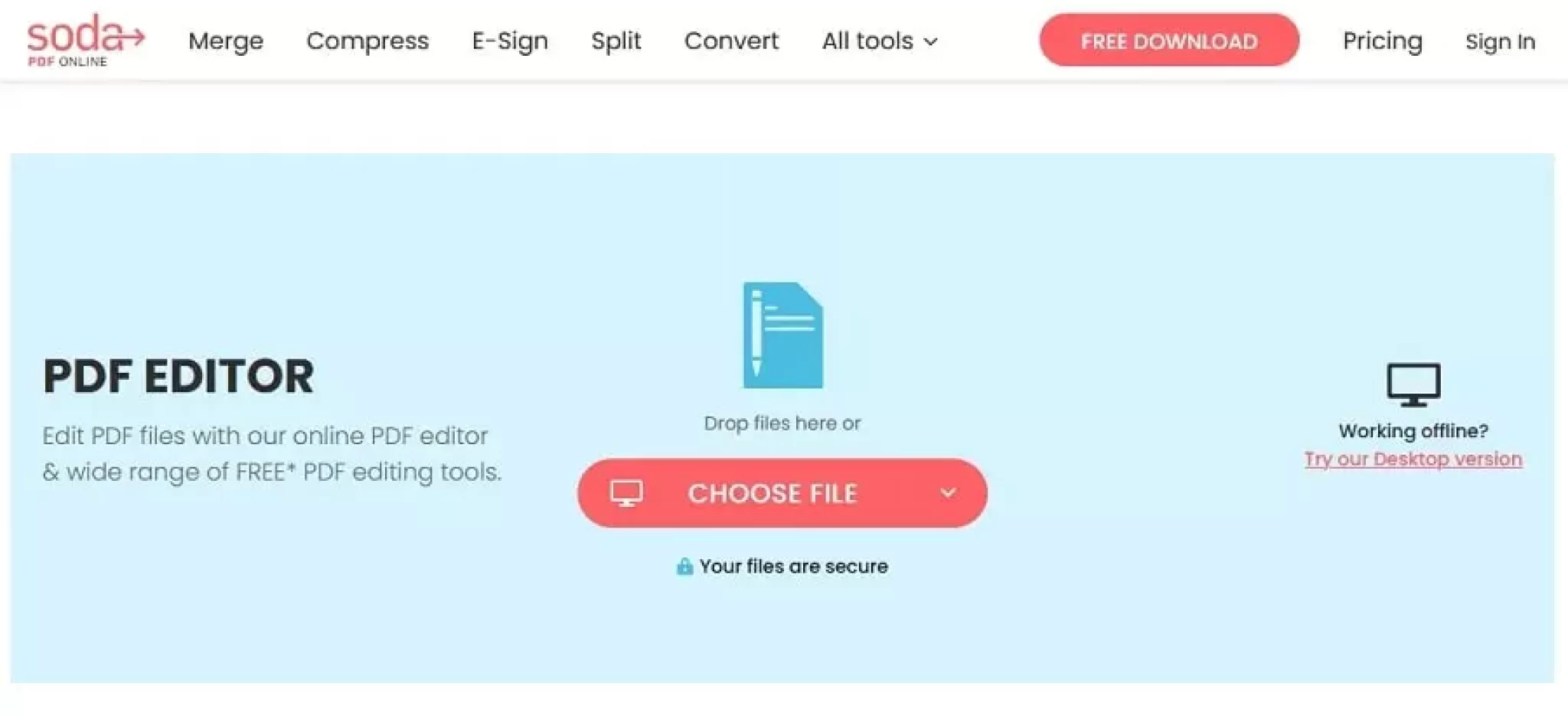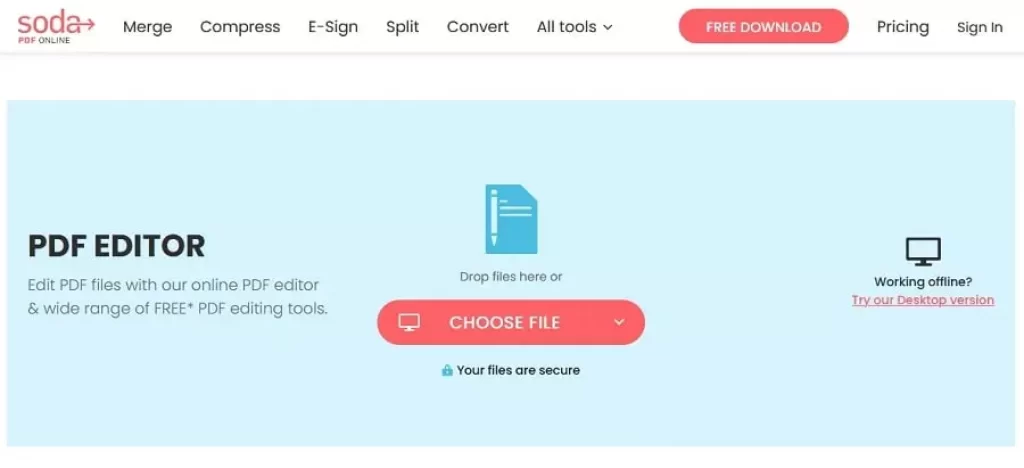 Soda PDF supports exporting to popular formats, such as Microsoft Word or Excel, and converts PDFs to RTF, unformatted text, or PDF/A. It also copes with various image formats (including JPG and GIF).
The software is also offered in various paid versions, where you can enjoy priority support in addition to encryption functions and form creation features. For home use, however, the free version is usually completely sufficient.
Advantages
intuitive, user-friendly interface
Same functions on Desktop & web versions
Connection to the cloud services possible
Disadvantages
No PDF optimization possible for mobile devices
How can I create a PDF file?
In PDF24 Creator, it's very easy by drag-and-drop. Just drag the Word file or even other existing formats into the editing area, and PDF24 Creator will convert the format to PDF.
How can I edit PDF documents?
PDF is first and foremost a format for exchanging files with a true layout, i.e. a format intended for viewing. The advantage is that it looks the same on any platform. You can view PDF files in the browser or with tools like Adobe Acrobat Reader but not edit them. However, with a tool like PDF24 Creator, you can post-processing, such as throwing pages out of documents, merging different documents, or extracting images.
Does editing PDF documents cost money?
No, not necessarily. Professional PDF workflows in companies usually run on paid tools such as Adobe Acrobat, but these tools are usually much too oversized for home use. You can often do small editing operations with freeware such as PDF24 Creator.
Do I need a user account to edit PDF files for free?
No, with PDF24 Creator, you can do this without an account.
Can I edit PDF files afterwards?
Yes, you can, but the best way is, of course, to make changes in the original source format and then create a PDF from it. But in principle, you can also edit a finished PDF file with tools such as PDF24 Creator. Important: The whole thing can be very tricky in detail.
Edit PDF extensively
In the overview, you will find various shortcuts, such as creating PDFs from different documents, compressing PDF files, or printing them. Many functions are grayed out if there is no PDF file.
For example, you can click into the "PDF Tools" and add a file there. You can find shortcuts and fine work in the Creator module for important operations. You find out Microsoft Word Alternative to edit text file.
Fine work on the PDF
If you want to remove individual pages from a multi-page PDF, right-click on them in PDF24 Creator and select "Delete". This way, you can also rotate individual pages or insert blank pages at any place.
To combine several PDF documents, drag them into the editing area. The easiest way is to insert an empty file via the menu and drag the corresponding pages into the new document with the mouse.
You can also read these articles: